Do you love the rustic farmhouse look? We're sharing our top 3 tips for creating rustic furniture so you can get your own farmhouse style without breaking the bank!
I think you'll probably agree.
Joanna Gaines has made rustic furniture and farmhouse home decor look BOTH comfy and elegant.
Man can she stage the patooties out of a house!
Sometimes, it's not easy to replicate a trend, but over the last few years I've seen thousands of people successfully DIY-ing their homes to incorporate that farmhouse style.
Shiplap walls, Boxwood wreaths, Barn doors, Reclaimed wood signs ...the list of DIY rustic touches goes on and on.
If you're still a big fan of the rustic farmhouse look, I'm going to show you some inexpensive DIY furniture options that blends both rustic charm with farmhouse style.
These inexpensive tips and tricks can help you turn regular old furniture into rustic farmhouse furniture. Expensive furniture stores, eat your heart out!
Disclaimer:
This post contains a few affiliate links to help you find the products I use. You are NOT charged extra to use any of the links. However, I will receive a small commission for purchases that are made through these links which help support my Dr. Pepper addiction. ;) You can view our full disclosure here.
HOW TO CREATE RUSTIC FURNITURE WITH FARMHOUSE STYLE
Here's the good news... DIY-ing your own rustic farmhouse furniture is really one of the easier looks to duplicate.

If you compare farmhouse style to say... Modern or Boho Chic, farmhouse details takes the easy cake.


I mean let's be real.

If you're using another paint color outside of white or grey, you're venturing off towards another genre. ;)

When you think about what farmhouse furniture looks like, there's a little bit of a sliding scale on the farmhouse spectrum.

And once again, Joanna has done a fabulous job of helping us blur the lines. Mix and match. Eclectic. Painted pieces paired with natural wood tones.

Want modern farmhouse?- simply include modern touches in with the rustic and you've got it! (Modern light fixtures, geometric tiles and modern cabinet hardware are all great examples.)

When you're trying to pull together a rustic farmhouse look together-all of these elements work.


WHAT IS RUSTIC FURNITURE?


And what does it look like?


Rustic furniture tends to made from natural materials that are fairly raw or unrefined.

A rustic piece of furniture usually has a distressed or weathered finish and the color palette tends to stay in the warn or neutral palette- something that can be found in nature.


Rustic furniture can also include simple lines, leather texture, rough-edged wood, rich texture with exposed outdoor elements like stone, brick or wood.


Keep reading to find out how you can make your furniture look vintage!
HOW TO MAKE FURNITURE LOOK RUSTIC
You don't have to purchase rustic furniture new from a store.
You can use what you already have to turn it into a more rustic style.
Here's a list of three awesome ways YOU can create your own
rustic looking furniture!
#1 Build It!:
You can build your own rustic furniture from repurposed pallets or wood from a big box hardware store.
Ana White offers all kinds of tutorials on how to build rustic furniture.
#2

Repurpose!:
There are several furniture artists who enjoy repurposing chunky 70's dressers by adding reclaimed wood to the top of their pieces and/or creating shelves from their drawer spaces to transform dressers into buffets or media consoles.
UTurn Design
rocks these types of rustic furniture transformations!
We repurposed the top of this china hutch and turned into a modern farmhouse looking cabinet simply by adding feet and painting it green!
#3

Refinish Your Old Furniture!:
You can make furniture look rustic with paint! Create your own rustic looking furniture simply by using the furniture you already have.
Refinishing them using a variety of these
distressed furniture
techniques can make just about any piece look worn or weathered.
Sanding and then staining your furniture can also give your piece a lovely weathered farmhouse feel.
THIS is one of my favorite stain colors to use!
Today, I wanted to show you how I went with option #3 with this $50 thrift store armoire score!
Keep reading to see how I gave this refinished furniture before and after some vintage farmhouse charm!
Then, come back here to see THIS rustic furniture refinishing technique!
HOW TO PAINT RUSTIC FURNITURE
Supplies Used For A Rustic Paint Finish:
- Paintbrush (I love the way this paintbrush feels in my hand!)
How To Make Furniture Look Rustic With Paint:
This armoire isn't anything special but it had the straight lines, thick trim molding and I loved the circular brass pulls! It had the potential to be farmhous-ey.. (That's a word, right?)
Here are the steps I used to create a rustic farmhouse armoire from a thriftstore find:
1. I dusted then cleaned the armoire really good with some Murphy's Oil Soap.
2. I painted my first coat in GF Lamp Black . I didn't go for full coverage because I wanted some of the wood tones to peak through.
This gives me a naturally worn look because the original wood tones are showing through.
3. Once the armoire had it's rustic paint finish I went back over the edges of the doors and details of the piece with a damp rag.
This is called wet distressing and it's one of my favorite methods for distressing furniture!
Take a peek at this rustic hutch now!
To create this rustic farmhouse look, I took an old armoire and painted it with black paint and distressed it. That's it.
Seriously, this furniture project took me a day to transform it into the rustic furniture that I wanted. It was SO simple!
It's my Easy Distressing Furniture technique that made it so easy. If you like the way this armoire was distressed and you want to learn how to do it go check it out, it really is worth the read!
MORE RUSTIC PAINTED FURNITURE IDEAS!
Want more examples of how to paint rustic? We've got you covered! Below you'll find additional DIY rustic furniture that are oozing with character...
FURNITURE FLIPPERS
A few of my furniture painting blogger friends have started a monthly share called Furniture Flippers.
Below are the BEFORE PHOTOS of their furniture makeovers from this month- visit the links below to see the AFTER and learn how they did it!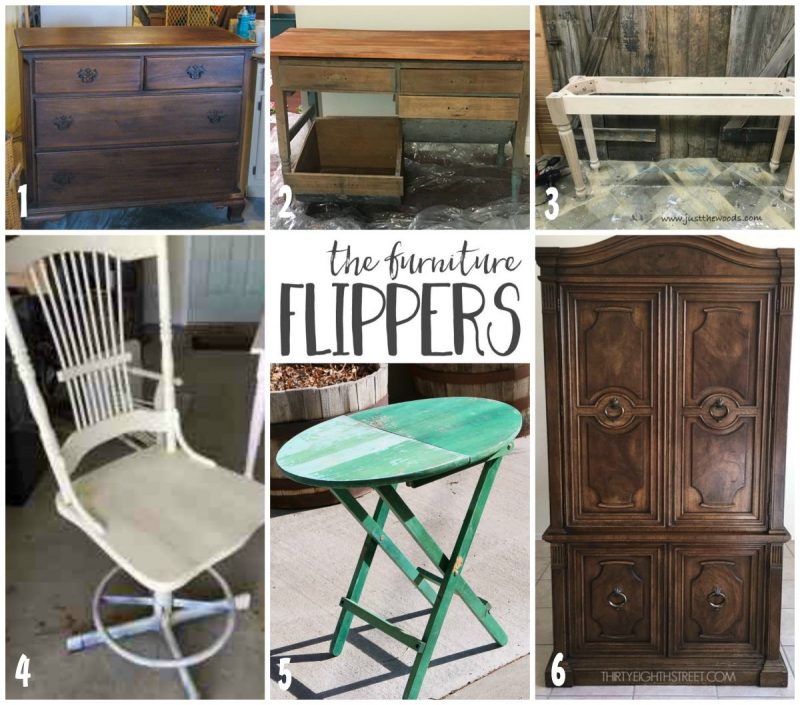 1: Two-Toned Dresser with a Blended Finish from Lovely Etc.
2: Modern Desk from an Antique Baker's Table from Refresh Living
3: How to Build a DIY Wood Table and Layering Paint Technique from Just the Woods
4: Modern Vintage Style Chair Makeover from Repurpose and Upcycle
5: Small Painted Table with Graphic from A Fresh Squeezed Life
6: How To Get The Rustic Furniture Look For Cheap from Thirty Eighth Street
If you enjoyed this DIY rustic furniture makeover, please share it on Facebook or Pinterest by clicking on our social share buttons.
This lets us know what kind of helpful resources and painted furniture makeovers you'd like us to continue to write about in the future!
Have a great weekend, friends!
Carrie || Thirty Eighth Street