Do you love the look of rustic furniture? I do too! There are a few different ways to get cheap rustic furniture.
And for the record, I'm using the adjective "cheap" as a synonym for inexpensive, not quality. ;)
In this post, I'll share a few different options for getting inexpensive rustic furniture so you can turn your home or vacation home into the charming rustic space you've been dreaming of!
With these tips and tricks, you won't need a huge budget or a professional interior decorator to get the rustic chic style you want!
Disclaimer: This post may contain affiliate links to products I love and use everyday. This means that I receive a small commission for purchases that are made through these links. You may read our full disclosure for more info.
THE BEST WAY TO GET CHEAP RUSTIC FURNITURE
By the time you're done reading this article you will:
Discover the best place to find budget-friendly rustic furniture and home decor!
Learn how to make your furniture look rustic!

Understand the different design elements for each rustic theme.

And get AMAZING rustic decorating ideas with curated furniture and home decor collections that fit each theme.
Let's start with the basic question...

WHAT DOES RUSTIC EVEN MEAN?
What is rustic and how many different styles of rustic are there?
Although weathered furniture is made out of recyclable or new wood, the wood finishes now a days have gotten a slight upgrade since the primitive 1800's.
Hewed wood, painting techniques, colored wood stains and pairing wood furniture with other design elements has transformed the word rustic into a popular interior decorating style.
FIVE RUSTIC DESIGN STYLES

Rustic furniture comes in a variety of styles. Over the last decade, rustic styles have merged with other design elements to create even more decorating styles underneath the "umbrella of rustic style".
Rustic Minimalism
Rustic Chic
Rustic Farmhouse
Modern Rustic
Industrial Rustic
and I'm sure there's more that I've left off the list- but these are the most common. ;)
Let's start with what's trending right now... Rustic Minimalism.
What is rustic minimalism? I would describe the rustic minimalistic style in three words: Earthy meets uncluttered.
It's a mix of rustic classics with a clean lines and simple decor. To create a rustic minimalistic space you can add sleek design elements with warm country farmhouse touches to a light and bright white neutral color palette.
In a nutshell, it's combining simple, minimal decorating with wood tones. Less is more with this style!
It's a happy medium between uncluttered rustic and comfort!
We've put together a collection of beautifully curated
Rustic Minimalist furniture and home decor ideas
that combine classic style with warmth!
But more importantly, they are items with some of the BEST ratings on Amazon AND they are super affordable!
What is rustic chic? Rustic chic sounds a little bit yin and yang, don't you think? Well you're right.
This style is all about creating contrast. In a rustic chic space, you off set traditional country pieces with modern chrome and artistic curves.
Think of this style as modern take on country. Decorating in this rustic style might make your grandma shake her head!
But, when your rustic chic decor pieces are balanced right your space will feel both current and cozy.
Rustic farmhouse is a modern approach to cabin-inspired design.
It uses recycled and reclaimed materials, upholstered linen and distressed wood elements.
This style color-wise also lends itself to mostly white and beige base colors.
You'll find pops of color in greeneries, dried lavender bunches and burgundy cranberry wreaths.
Shiplap and textured wood anchored with bronze/black hardware and light upholstery makes you want to cozy up to a fire and read a book.
Comfort is key with these farmhouse decor ideas!
For your shopping and inspiration needs, this Rustic Farmhouse Decor collection offers curated pieces that match this aesthetic.
What is Modern Rustic style and how does it differ from Rustic Chic?
Great question!
Simply put, Modern Rustic has a heavier emphasis on modern furniture. But, the color scheme is very simple.
A good example of a Modern Rustic Style Room- Pair wood beam ceilings with weathered antiques, modern furniture and cozy natural textures and it's a winning combination!
Explore the Modern Rustic
collection to shop for rustic decor, tufted Chesterfield sofas, and other essential industrial modern pieces.
Rustic industrial design features distressed woods and mixed materials.
Open shelving, industrial pipes, pallet wood furniture with casters can give an interior space a "factory" like aesthetic.
Industrial furniture has dominated popular interior design for the last ten years.
Companies like Restoration Hardware and home makeover shows like Fixer Upper have only helped the cause.
But industrial rustic furniture from RH can cost you a pretty penny $$$!
If you're a fan of industrial rustic furniture, we've discovered some pretty awesome industrial furniture and home decor ideas for a fraction of a fraction of the cost of the high end boutique stores! Click the button below to see them!
DIY FURNITURE
If you don't want to buy a rustic piece of furniture, you have another option!
You could paint an existing piece of furniture and give it a worn rustic finish...
You can take just about any piece of furniture from any era and give it an authentic rustic look simply by painting and distressing it.
It's true! You can create your own cheap rustic furniture and do it inexpensively.
Next, I'd love to show you how I painted this outdated dresser in a rustic worn paint finish.

Keep reading because at the end of this post, I'll showcase a few more rustic furniture paint makeovers so you can really see how easy it is to create cheap rustic furniture yourself!
HOW TO CREATE A RUSTIC PAINT FINISH FOR YOUR FURNITURE
I found this old dresser at an estate sale. It had really sleek lines and pretty square legs. Whenever I spot dressers with legs, I try and snatch them up (for the right price of course!).
If you're interested in learning my secrets for the best places to buy second hand furniture, visit this post!
It's where I share my BEST kept secrets for finding and turning old used furniture into DIY furniture masterpieces!
In general, these are the steps that I take to clean and prep my furniture before painting it.

1. How To Prep Your Furniture Piece for Paint
Remove any hardware. (I always place my hardware in a ziplock baggie to make sure that I don't lose any pieces.) It's been known to happen!




Thoroughly clean your furniture. That means vacuum up the dust and wipe it down really well before you apply any paint.



If you have any major dirt or grime on your furniture piece, I recommend wiping your furniture down with more than just a damp cloth. I like to use TSP or Murphy's Wood Cleaner.

2. How To Paint Furniture With A Rustic Furniture Finish
How do I make the painted wood look old?
In this distressing furniture tutorial, I show you how to paint and distress your furniture without using any sandpaper.
The furniture always looks perfectly aged and there's no messy clean up!
It's a really thorough tutorial that will teach you how to get a really nice worn furniture finish JUST by the way you paint.
It's a really easy furniture painting technique that will save you time!
It's the same furniture painting method that I used for this hand painted rustic finish.
RELATED POST:
How To Distress Furniture With Paint.
BEST TIP FOR MAKING YOUR FURNITURE LOOK OLD!
The distressing furniture tutorial I mentioned above will go into great lengths to explain the painting process but here are a few tips and tricks to get our hand painted rustic furniture finish!
When you paint your first coat, DON'T go for the gold.
What I mean is-
Don't be an overachiever.
Don't try to be efficient.
Don't strive for perfection.
Don't try to cover your entire piece with paint on your first coat.
Why?
Because you want the original wood tones to show through.
That's the secret!
That's what makes your furniture look worn and weathered and faded. That in nutshell- is the BIG SECRET to giving you the rustic look.
If you are looking to create rustic styled furniture
go light with your furniture paint.
If you paint with lighter layers, I promise you- you will have less wet distressing to do later!
Here's what the dresser looked like after my first coat of paint.
Take note- see how much of the original wood doesn't have paint on it?
The amount of exposed wood that you leave will determine just how rustic your furniture will look.)
Did you also notice that I didn't paint in unified brush strokes? (I painted on the diagonal. Sideways. Up and down. And sometimes I softly "jabbed" the paintbrush into the more detailed areas.)
See, no gold. It looks as if a young child was helping me. ;)
Sweet! Even better. Who'd like to help? Paintbrush anyone?
See, with this painting technique- anyone can help! Anybody can do this!
The second coat was applied in the same matter- with a little bit of paint and light paint brush strokes.
I gradually built up the paint color while still leaving areas of the wood exposed or just lightly painted.
Once the paint was dry, I took a damp cloth and ran it along the edges of my piece where I wanted it to look extra distressed.
Two applications of top coat were applied and the original hardware was placed back onto the dresser.
It was THAT easy!
Here's what the rustic painted dresser looks like now...
Look at the close up picture below.
Can you see the original wood showing through? That rustic weathered look was achieved simply by painting the dresser with light brush strokes.
And the fine distressed markings long the edge of the drawers and moldings were made with this wet distressing technique.
But, all other distressed weathered areas on the dresser were made simply because I lightly layered furniture paint on top of each other.
It's pretty awesome, right!?
Do you see now why this furniture painting technique saves you so much time?
RUSTIC PAINTED FURNITURE
The following painted furniture makeovers are proof that you can create your own DIY Rustic Furniture.
With this furniture painting technique you can learn how to make furniture look old.
Take a minute to enjoy these other rustic furniture ideas!
Balayage Inspired Media Console (We learned how to make wood look rustic with this furniture painting technique inspired by Balayage hair!)
This Wet Distress Painted Furniture Technique Is So Easy! (Learn how to distress painted wood without using an ounce of sandpaper!)
An Easy Paint Color Wash Technique For A Rustic Furniture Finish (Learn how to stain wood with paint!)
How To Get The Rustic Furniture Look For Cheap! (An old armoire gets transformed into DIY farmhouse decor.)
DIY Rustic Painted Farmhouse Desk (Come see how we cut a rustic wood table in half to create two farmhouse desks.)
Our Complete List of Distressed Furniture Ideas! (An amazing resource page dedicated to distressed paint techniques and rustic paint finishes.)
Distressed White Dresser Makeover (A beautiful rustic shabby chic makeover.)
CHEAP RUSTIC DECOR
Sometimes it's so convenient to see rustic farmhouse decorating ideas all in one place.
So, I've scoured the internet for the very best deals for
rustic home decor
and I discovered that Amazon has some really inexpensive rustic furniture and decor options that look AMAZING!
If you're already a prime member, you know that you're enjoying FREE shipping on prime eligible products which saves you even more money!
It's a convenient way to shop and get rustic chic style delivered to your door. I love my membership!
If you are interested in trying Amazon Prime out, Amazon is offering a 30-day free trial here.
Check out our complete collection of home decor ideas here!
If you found this rustic furniture makeover tutorial and these tips and tricks for finding
cheap rustic furniture helpful, p
lease pin this on Pinterest by clicking our social share buttons.
This lets us know what kind of helpful resources and DIY painted furniture makeovers you'd like us to do!
Here's some more painted furniture ideas from my furniture flipping friends. Come see what they've been busy working on over the summer!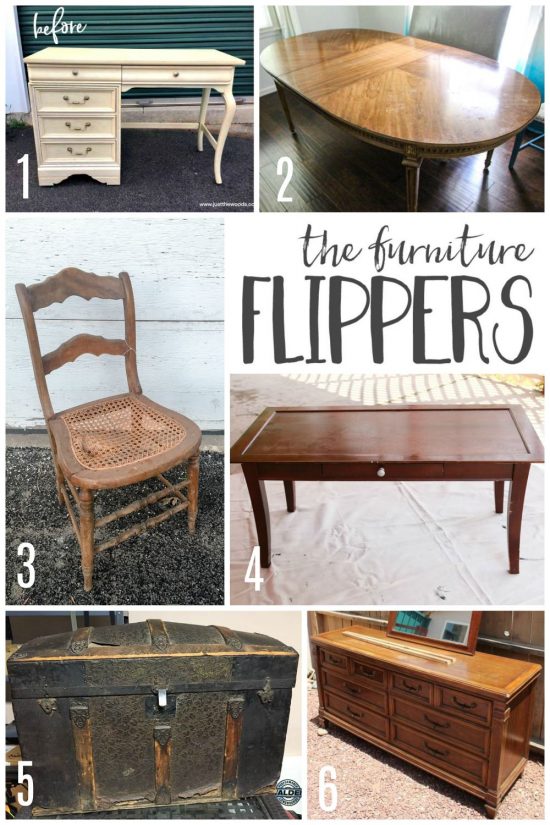 1. How to Create Fabulous Painted Furniture with Cutting Edge Stencils by Just the Woods
Do you have any burning rustic furniture refinishing questions? Which rustic furniture makeover was your favorite? Comment below & let us know!
Happy furniture painting, friends!
Carrie || Thirty Eighth Street
If you're new to painting furniture, we're happy to send you our FREE 9 page Furniture Painting Guide! Fill out the form below and we'll send it right over!